Slo-motion Heavy Duty Steel Speed Hump is the modular steel speed control system for seriously heavy vehicle applications (including 'B' - Doubles).
Perfectly suited to transport depots, factories and terminals etc. our super strong chassis construction with 6mm floor plate and 6 bolt fixing make our Slo-motion Heavy virtually indestructible.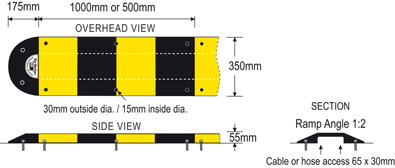 Value Features
Designed to comply with AS2890.1:2004.
More than 4 times the load bearing contact area with the road surface than competitors' products.
Use with or without end caps.
A choice of either steel or rubber end caps.
Comes complete with all fixings.
Truly independent modules for easy removal.
Does not require rubber underlay to prevent rattle.
Concealed fixings remain accessible.
Modules have a built-in bridge design to to accommodate hoses or cables.