Slo-motion is a strong modular steel speed control system consisting of truly independent super strong steel modules.
The ends of each speed hump are finished off with a pair of end caps.
These end caps are moulded from an extremely durable rubber, or alternatively, steel end caps are also available if preferred. Strong and durable, and suitable for car parks, shopping centres or factory complexes.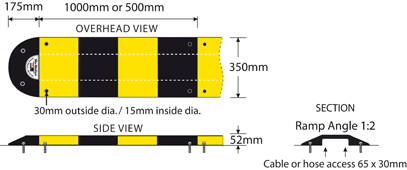 Value Features
Designed to comply with AS2890.1:2004.
More than 4 times the load bearing contact area with the road surface than competitors products.
Can be used with or without end caps.
A choice of either steel or rubber end caps.
Comes complete with all fixings.
Truly independent modules for easy removal.
Does not require a rubber underlay to prevent rattle.
Concealed fixings remain accessible.
Modules have a built in bridge design to accommodate hoses or cables.